Discussion Starter
•
#1
•
And not done yet...
My daughter and SIL moved into a new house in Aug and they have 2 closets in the hallway. She wanted barn doors, and it makes sense since its a narrow hallway.
Went to lumber yard this morning in town. Closed. WTF. Ran a half hour to Home Despot and spent $275 on lumber. 😲 But the doors are odd sized so needed custom built.
Got home and started cutting the framework. First door went well, but my kingdom for a compound miter saw! Had to use a board and clamps to get square cuts. Second frame went OK the front, got to the back and instead of cutting 38" I cut the boards at 36. Dumbass. Sent Sue for a board and got them to cut the pieces I needed so at least they are square now.
Kept chugging along, didn't lose any fingers with the chop saw or the router table.🙂 Got the first door done about the time Sue got home. I made it to the last 2 boards and the freaking air compressor crapped out. Got the neighbor's, but his leaks and won't hold enough pressure to run the brad nailer.
Mom is bringing her compressor up tomorrow so I can finish and install the hardware. We plan to run them down and install them tomorrow if it doesn't get icy.
Here's the first door.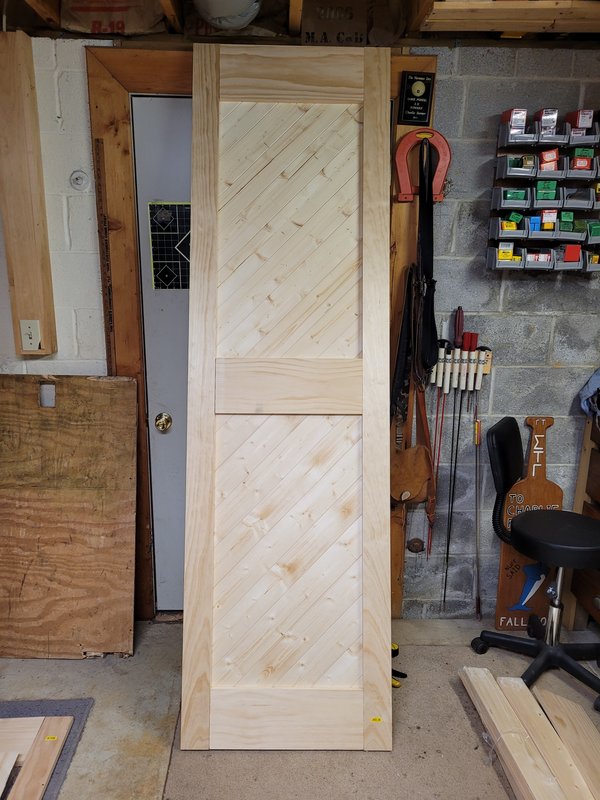 And the second. Have to nail the middle and top board yet. Not bad for limited skills and without proper tools.