Discussion Starter
·
#1
·
Tim and I were able to get out yesterday for a day of calling and filming. We headed out early for some ground neither one of us had ever hunted before. Right now there is a blanket of fresh snow out there, not too deep to keep us from getting around in the Jeep, but deep enough and fresh enough to show fresh tracks. We wanted to hit some new ground while there is snow to quickly show us exactly where the bunnies and coyotes are, and how many.
We got to our jumping off point sooner than expected, leaving pavement 45 minutes before light. So we just began navigating our chosen route along desert two tracks for the day, looking at animal tracks in headlights. With a layer of cloud hanging low in the sky, daylight was slow in coming, but come it did, finding us 15 miles in, and seeing good sign, but not much in the way of good looking stand locations. When we finally found a spot to hide the Jeep, we walked 400 yards to settle in on a little hillside that would afford us a bit of elevation and a view.
As we were walking around the bulge of the hill towards our stand, I saw a band of about a dozen broomtails about 500 yards away. The stallion saw us walking and came running straight towards us. I considered it extremely unlikely that he'd actually get close enough to do any harm. But, on the other hand, I HAVE had those ornery SOB's get uncomfortably close before, and have seen them get incredibly violent a time or two as well. No worries though. He stopped a good 50 yards from us to prance around stomping and blowing. We just kept walking towards him and he just kept backing up and trying to scare us. Finally, just before we got to our sit down, he turned and ran back to his band, which was now only about 200 yards away. Where he continued to stomp and blow.
I figured it likely that any coyotes within calling distance had heard the stallion fussing. But, I also figured that was not anything that they would consider unusual in the context of a coyote catching a rabbit near the broomtails. So I started the usual Utah Jack on the Foxpro, and added in a few howls with my Higgins howler to complete the scenario. If nothing else, that was enough to finally get the dang mustangs to move out of my draw...
Things were quiet for about 7 minutes after that. Then I spotted a flash of fur in the brush downhill and a few hundred yards out. Coming our way. The coyote went out of sight under the slight shoulder of the small hill beneath us, but the wind was favoring us and he had been coming hard so I was confident that he'd be popping back into view soon, much closer, on our small finger ridge. A minute or two later, that is exactly what happened. I tracked him in my scope as he came bobbing and bounding uphill through the brush towards the caller. When he stopped facing the caller to reconnoiter at about 45 yards, I squeezed the mouse squeeker on my shooting sticks to turn him slightly and square him up facing me. Knowing that Tim was behind me rolling the camera, I took a couple of seconds extra to admire how gorgeous he looked in the scope, then I shot him, hitting him exactly where I was aiming, where his neck joins his chest. The 45 gr. Hornady did not exit. An average sized 2 or 3 year old male.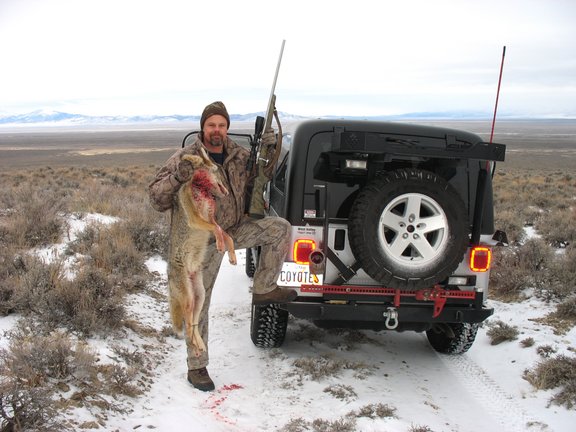 Turns out, that the camera had a hiccup. So Tim was able to get some footage of the mustangs before the stand, and good footage of me jabbering about what a wonderful morning it was after the stand, but no footage of the coyote coming in or getting shot. Bummer...
Tim's turn on the rifle after that. We called in a coyote on the next stand, and three on a stand a bit later, but Tim was never able to get a shot at any of them.
By 11:00 or so, the wind had come up to about 25 MPH, and then it started to spit snow. Not fluffy flakes, but those nasty little snow grains that sting on the face when driven by a 25 MPH breeze. The snow kept up till about an hour before dark, the wind never did let up. So we spent the rest of the day, and a couple hours into the night just cruising the new-to-us desert in my Jeep, looking at the sign in the snow and taking mental notes for future trips. Ended up driving 125 miles of snow covered two-track before finally getting back to pavement. Mentally "crossed out" some great big chunks of land where the spoor and terrain were such that we'll never go back to call. But, we also filed away a few great looking spots where the sign was good and the terrain was favorable to our style of calling. We'll be back to those spots, someday.
All in all, a GREAT way to spend a day!
- DAA