Well, I can check "Catch a big tarpon" off my bucket list. Caught this 110-pounder about 10 this morning at Boca Grande. I asked the guide, "OK, so what's the real weight, not the guide-inflated weight?" He stuck with the number 110. I was gonna guess 75-80 but the fish was pretty thick, so maybe 110 was his honest estimate. It's the only hit we had and the mate said we were extremely lucky because the hook was only in the skin of his mouth, not bone. They said it was only the second fish they'd landed this year hooked that way; apparently the hook pulls out pretty easy if it isn't stuck in bone.
We fished another 1.5 to 2 hours after this, hoping to hook Cindy up, but it didn't happen. One strike, one caught fish and that was it. Wind was really bad, which they said makes it extremely hard to spot the fish rolling. The whitecaps on the water look a lot like rolling fish and you can't really tell the difference unless one rolls close. Guides are all using small live crabs about 18-24 inches under a float this time of year.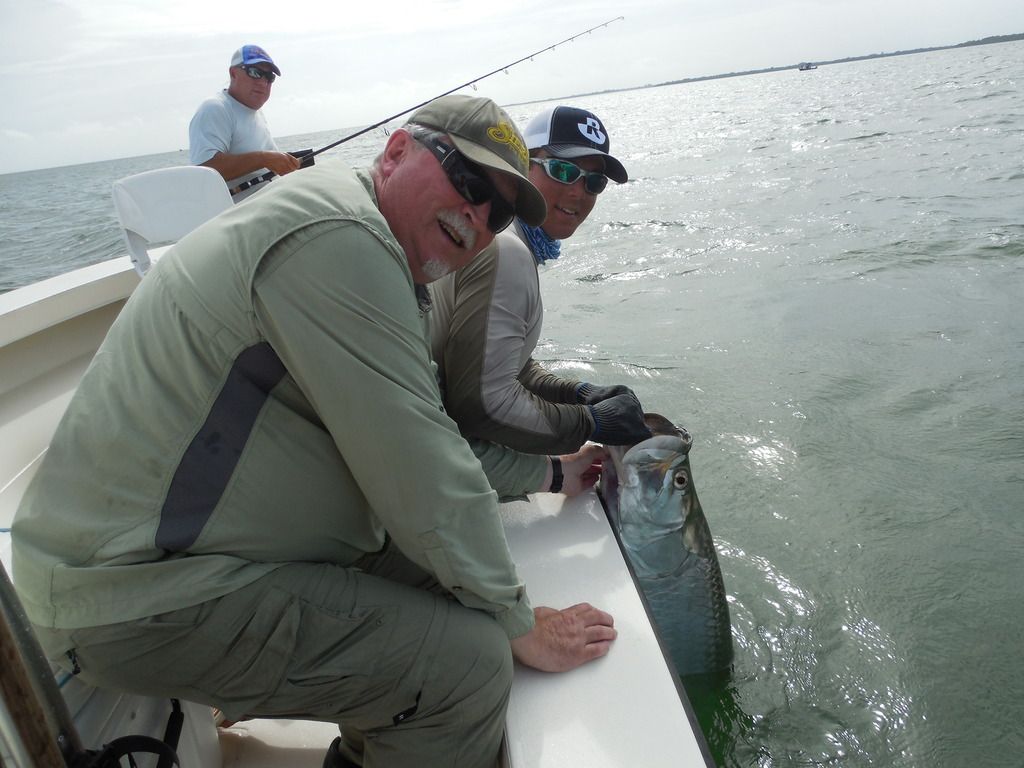 The captain kept telling us how lucky we were to have caught and landed a tarpon that size on such a windy day. I told him if he was trying to make me feel good it might work better if he mentioned how much skill it took to successfully land a big fish that was only skin-hooked. I didn't really take offense because we agreed that we'd both rather be lucky than good any day. We were out in the middle of a huge bay but only about 8-10 feet of water. The HUGE tarpon – did I mention how HUGE it was? – jumped at least 5-6 times, totally clearing the water. I don't remember much about the jumps except I do recall seeing a lot of red a couple of times where he was shaking his head. Kinda reminded me of red mist in the PD fields.
Earlier I had asked the guide about the whole "bow to the king" thing where you give the fish a little slack when it jumps. His answer was something like, "Sometimes I do, sometimes I don't. Doesn't seem to really affect things much one way or the other. I do try to move with the fish, if that makes any sense. So, when he jumps, it doesn't hurt to at least loosen up a little on the rod and take a bit of the strain off." The way this sucker pulled, I was mostly concentrating on keeping some pressure on him. The drag was set really tight and he only pulled drag a couple of times, maybe 5-10 yards each time. Did I already mention how HUGE this fish was?