CarlP and JR the Damcowfarmer asked what kind of electric smoker I use, so I'm going to answer that question. I'll try to be brief, but I have some passion around the topic of smoking meat, so there's no telling where this will end up or how long the post will be.
First, let me make clear that what I'm not interested in is a pissing match or arguments from narrow-minded fans of charcoal, wood, electric and propane smokers. I can and have made good pulled pork, pork ribs and brisket with all these sources. Just like one rifle isn't best at everything, neither is one heating source. I think JR and Carl are interested in electric because charcoal and wood take a lot more tending to maintain a smoker temp that's anywhere near what you'd call steady. Going electric makes that a good deal easier.
I've grilled steaks, burgers, chops, chicken, sausages and such over charcoal for years. This is high heat and short cooking times, and probably 70% of my outdoor-cooked meat is still done that way. It's fast. It's tasty.
When I got interested in smoking, I talked with a lot of folks. My first 15-20 smokes I used charcoal in a pan in the very bottom of a "bullet smoker." Above the coals sat a water pan, and above that pan I had two grids to hold the meat. So, I had to learn how much coal to use, how much water to use, how to try and get the right temp and how to add more hot coals. The last isn't easy because while my bullet smoker had a little hinged door at the bottom, it wasn't very large and the water pan partially blocked it. You can smoke with that method, but it's a pain in the ass.
At this point, someone -- my brother? -- offered me an electric bullet smoker that he bought years before and just never got the hang of. It was basically identical to my charcoal bullet except it had a 1500W electric element in the bottom, under the water pan. This isn't the model I have, but it's close enough for this explanation. Mine doesn't have the variable controller, just a one-speed element.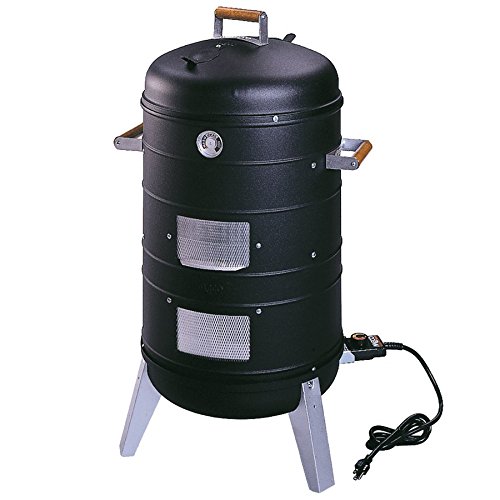 What I learned pretty fast was that the designer of my one-speed electric smoker was pretty dang sharp. You can put a half-gallon or so of water in the water pan, load the grids up with meat, plug that baby in and it will settle out right around 225 degrees within an hour or so and will maintain that temp without a lot of fuss. For smoke, I put wood chips in a little steel smoker box or I wrap wood chips in aluminum foil and poke holes in it. The wood holder then gets laid atop or alongside the electric element and can be refilled via the lower door in the smoker. I can use this smoker even in 30 and 40 degree temps by simply loading it up and then draping an old beach towel or two over the top and sides. Works well and I'm totally comfortable going off and leaving this rig running for 2-3 hours. As long as it has water in the pan and the circuit breaker doesn't trip, it's gonna hold about the right temp.
One more thing about these bullet smokers: If you watch the side of the road in the spring, you can pick these up for free! And in the future when you need an extra grid or your water pan rusts out: Free replacement parts! People buy these things or get them as gifts, they set them in the garage, and finally put them out as junk after 5-6 years. If you have to buy the electric element, those can be had for maybe $30. If you don't like doing the yard sale thing yourself, put in an order with Skruske.
So, if my electric bullet was working, why was I interested in adding a digital box-type smoker? Well, for one thing my electric is really built to run at 225 degrees (give or take). When I make venison summer sausage, most formulas call for you to smoke for an hour or so at maybe 125 degrees, then an hour or two at 150, then maybe bump up to 225 until you hit a certain internal temp on the sausage. You can do this in your kitchen oven, but then you have no smoke. So, for that reason and others, on Black Friday last November I bought a digital electric at Academy for $97 plus tax. There's a photo below and you can
read about it here
.
If you click the link above and read the user reviews, you'll learn there have been "issues" with the electronics in this unit. I suspect this is true of a lot of this type cooker. My controller died after about three cooks. I called the manufacturer and after a 20-30 minute wait I got a very pleasant, very competent customer service rep. She talked me through removing some access plates and unhooking the power leads to the "brain." I left it unhooked about 30 minutes, reconnected everything, and it fired right up. Kind of a reboot, I guess. I'm hoping this is the only problem I have, but who knows.
I wanted the cheapest digital smoker I could find because (1) I'm cheap, (2) electronic things break and I'd rather break a $100 smoker rather than a $400 smoker, and (3) money saved on the smoker could be routed to the gun/reloading fund. Also, while the glass window in front seems like a nice feature, I figured it would just smoke up real fast and it's subject to getting broken. My goal in going digital is so I DON'T HAVE TO watch the meat, not so that I CAN WATCH IT, right?
Now, take the money you saved buying a cheap smoker (either an electric bullet or the digital) and put that money into a good remote thermometer. Bullet smokers and others of that type most all have a basic spring thermometer built into the lid. They're crap, pretty much worthless. Good smoking is all about temperature control and since you guys are shooters and reloaders, you understand about precision and controlling the variables. Over the years, I've bought at least 6-8 remote thermometers in the $40-$60 range. Some would work for 6 months, others would work for maybe 2-3 years. But they all had proprietary probes and most of those cheap probes would fry and die if your temp ever spiked to the 300 degree range. Just not very durable. So, about two years ago I sprang for a
Thermoworks Smoke
dual-probe unit. You put one probe in the meat, one probe hanging free in the smoker, and then those are what you pay attention to. Best $99 I've spent in ages. The unit is sturdy, probes are durable and replaceable, and the company has a stellar reputation.
My final recommendation is that you go visit
Smoking Meat Forums
. They're a good bunch and these forums have been operating long enough that it would take at least a year to read the backlog of existing posts. They have scores of sub-forums, so you can go here and read just about
Electric Smokers
, for example. I don't post there real often because I can usually answer whatever question I have just by searching previous threads.
That's all I've got for now, guys. Charlie and other guys who have electric box smokers can chime in. He's been using his at least a year or two longer than me. And I'm pretty sure the smoker George got within the past year is an electric box and he seems to LOVE IT.
Carpman