Discussion Starter
·
#1
·
Well, I headed out to the National Grasslands and did some coyote calling after lunch today. The temperature was about 34º and there was a light WSW wind of maybe 5 mph. I hate it when I have to call looking into the sun, but the clouds must have heard me and covered up the sun!!!! I only had time to make three stands today. The wind switched on my second stand and wound up coming from my back out of the ENE, but there were no takers on stands one or two.
After stand two, I just walked about 3/4 of a mile straight east of where my pickup was parked and set up the FOXPRO and got back up a little hill to the WNW of the caller about 60 yards away. I started out with some high pitched baby cottontail distress sounds and at the 4 minute mark I had a coyote howl one time. It sounded like it was maybe 3/4 of a mile up the big valley to the east of me. I howled back with the same sound and it howled back. I howled back again and then there was silence. I started the cottontail distress sound again. At the 15 minute mark I used the Interrogation sound on the FOXPRO and then the Female Invitaion howl. I muted the caller. Nothing answered. I turned on the Coyote Locator sound and let that run a couple cycles. I muted the call again. No answers.
About 30 minutes into the stand I could hear some coyotes howling way off to the SW of me. I used the Austin Howler to talk to them a bit too. At the 45 minute mark I used my Austin Howler again and did my imitation of an interrogation howl, followed by several male challenge howls. Then I went to my higher pitched howler and did some coyote pup distress sounds and finished it off with some old dog challenge howls. The countryside lit up to the ENE, east, and SE!!!
That's more like it!!!!
Now maybe I'll get a customer! I let the cottontail distress sound play continuously after that. At the 60 minute mark I still didn't have any customers!! That was very disappointing because I can usually work them in once I get them howling.
I walked down to the FOXPRO, turned it off and put it in my butt pack and started the long disappointing walk back to the pickup. When I got up out of the little valley I was in,
THERE IT WAS!!!!!! A BEAUTIFUL NORTH DAKOTA SUNSET, that is!!!
I promised I would post a picture or two of some North Dakota sunsets.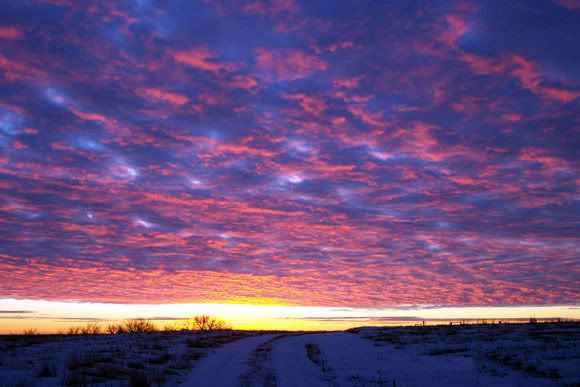 And here is the second one I got late this afternoon.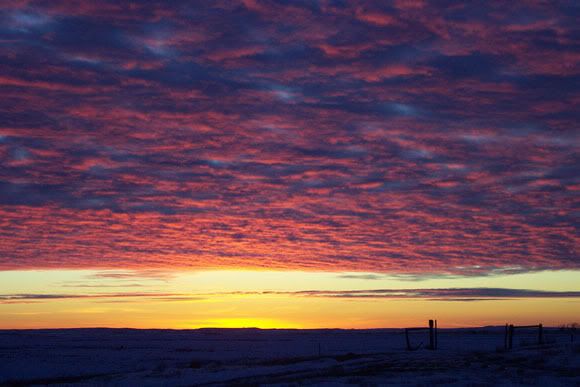 On the long drive home, I had a coyote run across the road in front of me and saw a nice muley buck with a real nice rack!!!