Discussion Starter
·
#1
·
I probably should post this under Firearms & Optics, but we get more traffic here, so here's where it goes.
I changed from a fixed-power scope to a variable on the Savage 6BR that I use in UBR matches. Those matches have a full-up weight limit of 13.5 pounds and I had to drill out the butt stock like a dang wood bee. Had to remove the recoil pad as well, which was no great shakes because I shoot that rifle free recoil.
Greyfox and a couple of other guys told me I could probably slim down some by changing my tall Burris Signature Zee Rings and the scope base, which was a one-piece steel Ken Farrell. I finally got serious and ordered a two-piece aluminum base and a set of single-screw aluminum rings from the Harrell Brothers.
Swapped out the base and rings and now the rig is a full 9.5 ounces lighter. Woo-hoo! Attached you'll find a photo of the two-piece base and the numbers showing the weight of the old parts vs. the new aluminum parts. I thought I'd post the info here in case someone else is wondering just how much weight can be trimmed. Obviously the savings depends on the parts you're starting with.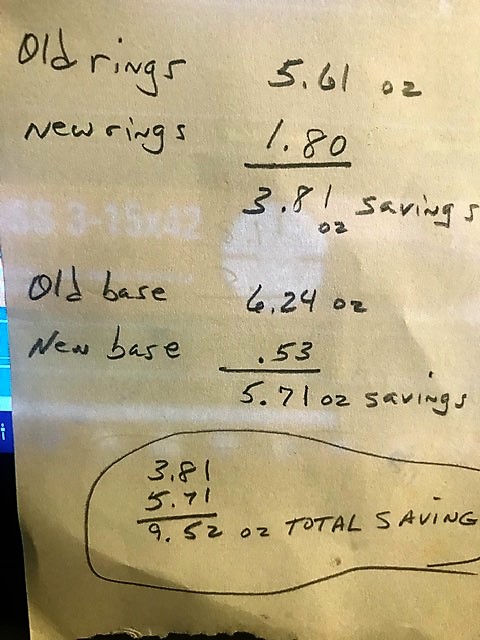 Carpman