Discussion Starter
·
#1
·
A good friend gave me two cherry logs about a year ago. I should have put them inside, but instead stood them on concrete up against my house, figuring the eaves would keep them dry enough. Nope. They started sprouting a fungus I call wood ears in late summer.
About a month ago I finally bought a wedge to split the logs, which went fine. When I stripped off the bark, I noticed a ring of light-colored wood maybe a half-inch thick just under the bark. One person told me that was sap wood and normal, but a wood-wise friend told me it was "pithy wood" and indicated rot. He said I needed to get it off and might be able to save the hard wood underneath.
So, yesterday afternoon I took my angle grinder with a Harbor Freight knock-off of one of these
King Arthur grinders
. That grinder disc worked great and what I found beneath that "pith wood" has me really excited. Take a look: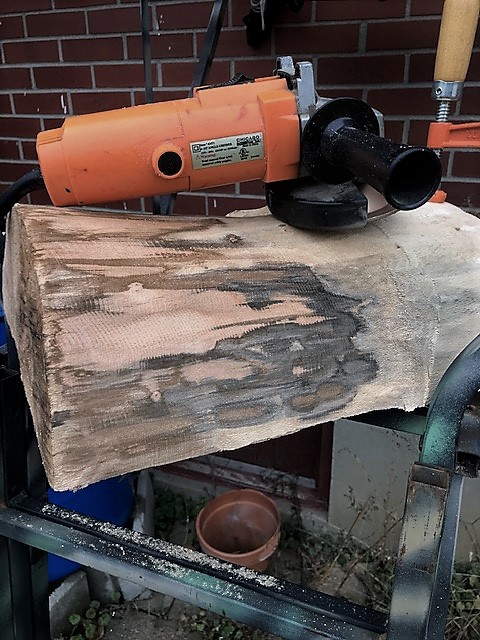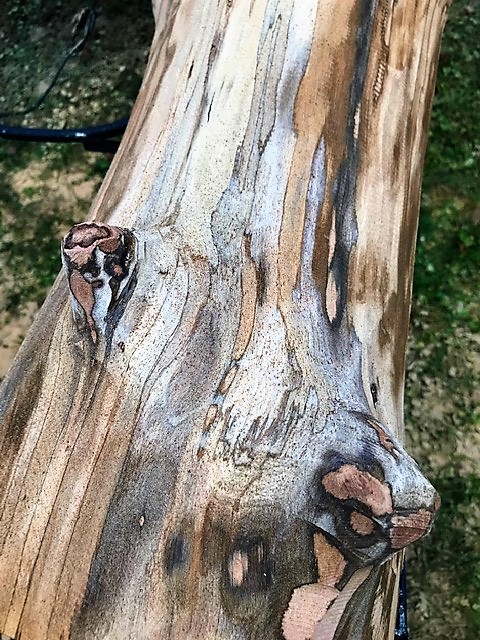 If any of you have done any creative work with logs like these, can you tell me:
The logs were cut about a year ago and sat since then under my eaves on concrete. How do I know when they're dry enough to work?
Following up on #1, I know I want to make an old-fashioned dough bowl out of one split, plus some knife scales. If I go ahead and make those, and the wood is not fully cured, what's the worst that can happen?
Do you think the spalting and color I'm seeing on the outside will have penetrated into the log? That's good, right?
I appreciate any guidance or answers you can offer. If you know of websites that might help, I'd love it if you'd pass those along.
Thanks!
Kentucky Fisherman (Louisville)