Discussion Starter
·
#1
·
Totally off topic. And long, too! And really, just another typical weekend in Utah. But it was fun, and interesting, and I got some good pictures, so I figure some of you will enjoy suffering through my writing about it.
For those who would like to see all the pics I've uploaded and skip all the boring stuff, here's a link to the album where all these pictures (just a few of the 250 I took this weekend!) are located:
Link to picture album.
Me, my Wife and my Son went down to Moab this weekend to get in some wheeling, do some good eating, and enjoy some warm weather. We had one pretty bad mishap, but nobody got hurt, and bottom line was that we all had a lot of fun.
We drove down to Moab on Thursday afternoon. As soon as we got checked in to our hotel, we went and met up with my buddy Steve and his friend Korina for dinner. I should mention, that I've been on a diet since Jan. 1. BUT! I decided that this was vacation, and I was gonna eat whatever I wanted. And I did! So half the fun on this trip for me, was just the eating, LOL!
Friday morning, Cindy stayed in town to hang out and relax while Logan and I joined Steve and Korina to go do some four wheeling. The trail we chose for the day was "Steel Bender".
Here are a couple of pictures that Logan took from one of the first obstacles, near the start of the trail. This was a fairly moderate obstacle, compared to many that would follow.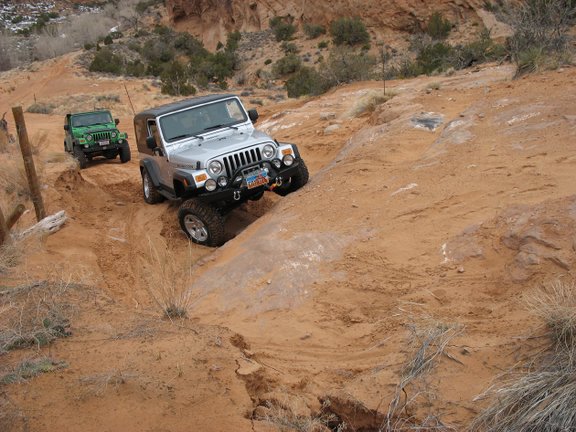 The trail just got better from there! Logan made it clear that he would rather ride in the Jeep over the tough stuff than miss out by having to take pictures. So I don't have many pictures of the really cool ledges and boulders we went over before we got to the spot pictured below.
I did
NOT
like the looks of that ledge. Too much of a steep drop for the way my Jeep is setup. So we got out to look at our options. To the right was just a big drop off, impossible to go that way. To our left was a less steep, but
VERY
rough and still quite steep series of boulders and ledges. I decided to take that line. I picked out exactly where I wanted to place my tires for the trip down. Then made Logan get out, and had Steve spot me to make sure my tires went where I'd decided I wanted them.
Here is a picture of me starting down that way.
Note, my 12 year old, Logan took this picture. He was keeping the camera level with the Jeep. That spot is way, way
WAY
steeper than the picture makes it look. If you look at the picture closely though, you can see Korina standing on a big rock behind my Jeep. Tilt the picture until she is standing straight up, and you'll get a much better feel for how steep this is. Going down, it felt pretty scary in a couple spots where I got tippy and had to use more throttle than I really wanted to, to keep my front end moving out from under my rear end so I wouldn't do an endo. But I got to the bottom all in one piece.
To be continued...
- DAA